We're still on a high after winning bronze in the Climate Action: Race to Net Zero category at last week's Global Good Awards (13 October). The award recognises our innovative approach to net zero and the initiatives we're exploring on our journey.

The Climate Action: Race to Net Zero Award celebrates organisations that are setting new standards in lowering carbon footprint impact across its business activities. In particular, it recognises the development of innovative projects and initiatives that are pushing the boundaries.
We're currently building a £2.2m housing scheme at Copthorne Walk in Kirkby. With 15 new affordable homes, the site will be piloting three different energy efficient systems to explore the short-to-mid-term impacts on its customers of moving to a net zero development programme.
Homes will be built to deliver to the new Part L (Conservation of fuel and power) of the Building Regulations, delivered with and without gas heating systems. The remaining homes will be built to the assumptions attached to the New Future Homes Standards with Air Source Heat Pump heating systems.
Due to be completed in Spring 2023, a 12-month pilot will follow. We'll work closely with Liverpool John Moores University on live data analysis, and with our customers to review their perceptions of comfort, ease of use and control, and the impact of carbon improvements on their fuel bills.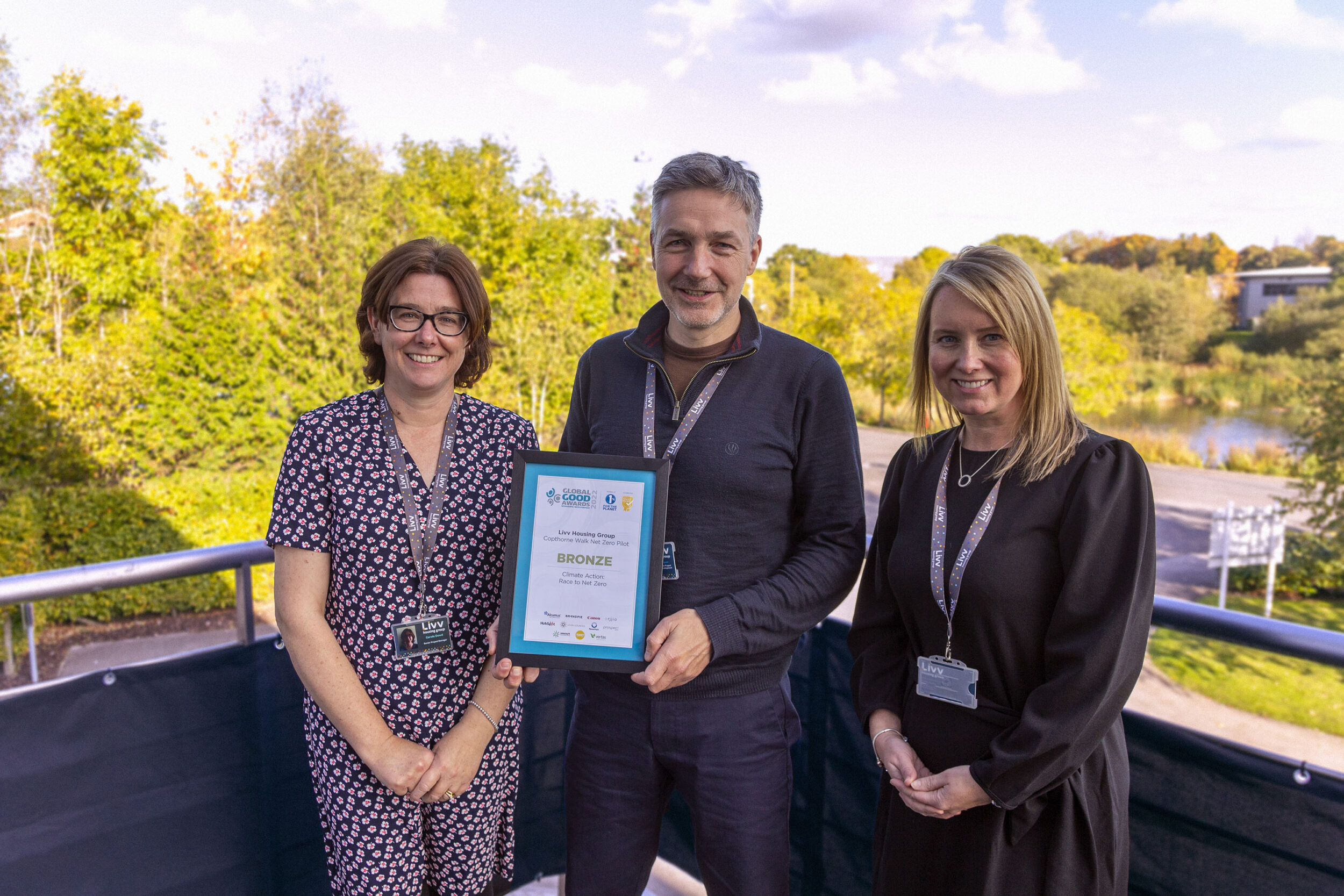 Other initiatives that we've adopted includes:
a three-year energy consumption and carbon reduction programme across our estate
a look to move to an all-electric fleet of vehicles
a virtual and paperless office
the undertaking of product selection trials in our current homes such as the Flutter Shutter.
In our energy consumption and carbon reduction programme, huge impacts were reported through our annual Streamlined Energy and Carbon Reporting (SECR). Over a three-year period, we've reduced our energy consumption by over 20% and carbon emissions by 50%. This was done through measures such as procuring electricity supplies from renewable only sources.
In addition, we've had solar panels and air source heat pumps installed at our headquarters in Prescot as part of our ongoing decarbonisation plans. These changes will enable a further reduction in emissions of 6,000 kgCO2e and reduce energy consumption by 27,000 kwh per annum.
We're really proud to have taken home bronze at the Global Good Awards. To have made the shortlist alongside multinational brands is an incredible achievement for us and a huge testament to the hard work, drive and innovation of the business, our teams and everybody involved on our journey.
"For Livv, sustainability and carbon reduction encompasses every aspect of our business operations alongside the impact generated from the performance of our homes, and we're doing all that we can to reduce our impact on the environment and the depletion of natural resources in everything we do.
"Our journey to net zero has begun. And whilst there's still a long way to go, we're really proud to have been recognised for our work so far."
Tony Cahill, Executive Director of Property at Livv Housing Group.