After taking part in one of our food-based social impact programmes, George from Halewood has brought together his passion for cooking and love for his community by starting up a community lunch club. With the rising cost of living, George's initiative helps local residents have access to a hearty, homemade meal each week.

We've been working in partnership with Alchemic Kitchen and chef Adam Franklin (owner of Alba in Melling) over the past year to deliver food-based skills building programmes for our customers.
After coming across a free taster workshop outside his home in Halewood, George signed up to Men vs Food – a course designed to bring people together to give them a safe space to talk about mental health whilst learning how to cook.
George said: "As my late dad was a confectionery chef on a cruise ship, I grew up cooking. However, over time it became more of a 'needs must' rather than something I actually enjoyed. I've lived with a rare bone condition in my jaw for the past 25 years so I'm on a soft diet, but I cared for my mum for a while. Especially now that she's getting older, it was important she was getting decent meals."
George completed the four-week beginner and four-week advanced course, gaining an Introduction to Slow Cooking qualification. As well as a slow cooker, he took home new ideas, additional skills and a reignited love for cooking.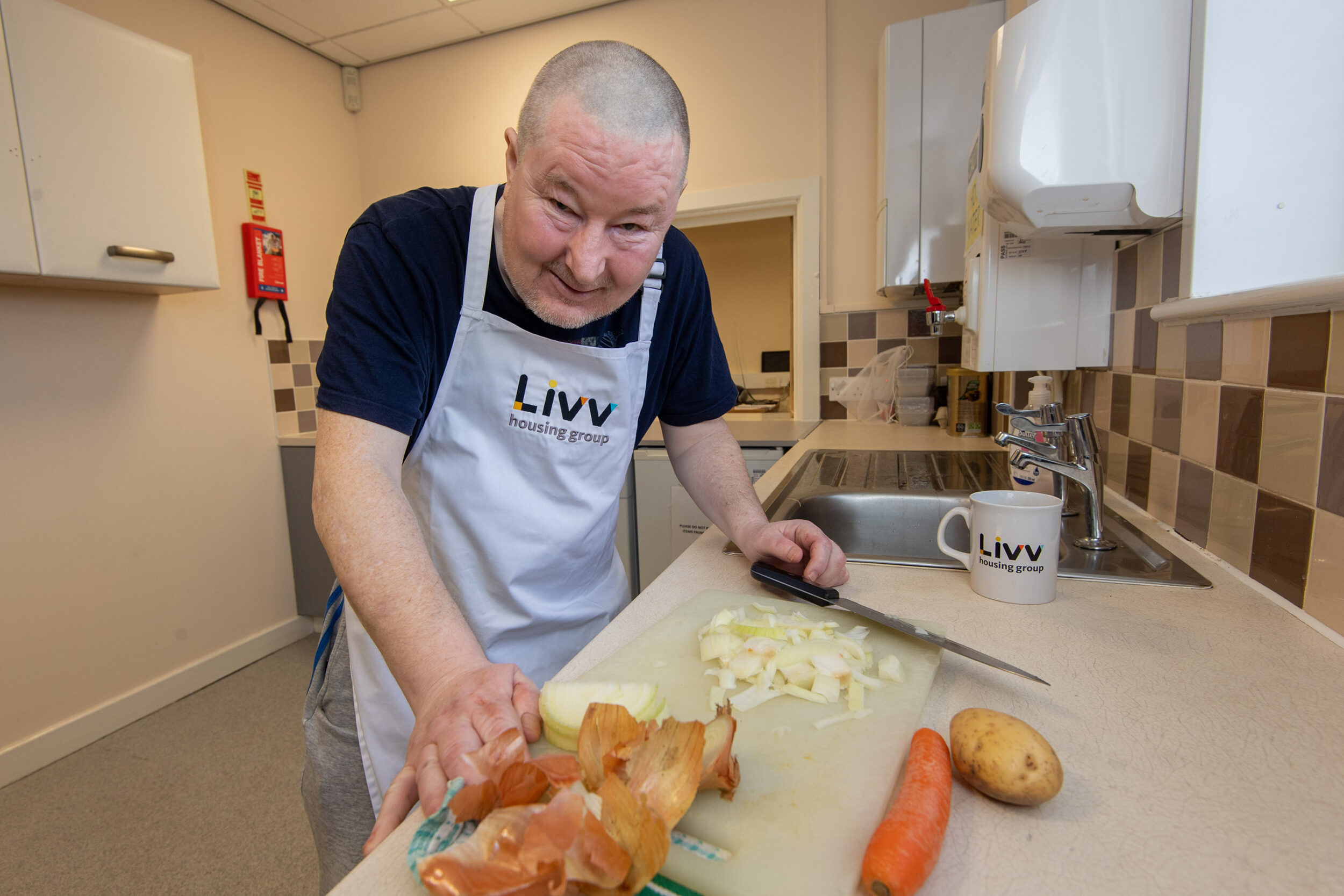 George added: "I've always been an active member of our community and I miss how the community centre was always packed pre-pandemic. Residents would make and bake, and we'd get together regularly to socialise. There was a proper community spirit. But the impact of lockdown and social isolation really took its toll and it's not been the same since.
"I saw for myself how the food parcels that Livv organised [back in 2020] really made a difference to those who needed it. And I think now, with the cost-of-living crisis, where not only bills have rocketed, but also the price of food, we need to make sure that those who can't afford to eat are getting at least one or two hot meals a week.
"As we have the kitchen facilities in the community centre, I was keen to make use of it and start up a food club that will support other residents. I spoke to Livv about the idea, and with the course under my belt and the backing of Keenan at Alchemic Kitchen as well as the chefs at Alba, they agreed to help me get started."
We arranged for George to complete his Food Hygiene Certificate and a new cooker was installed in the community centre kitchen. Chef Adam Franklin also kindly donated kitchen essentials such as utensils, takeaway crockery and cutlery.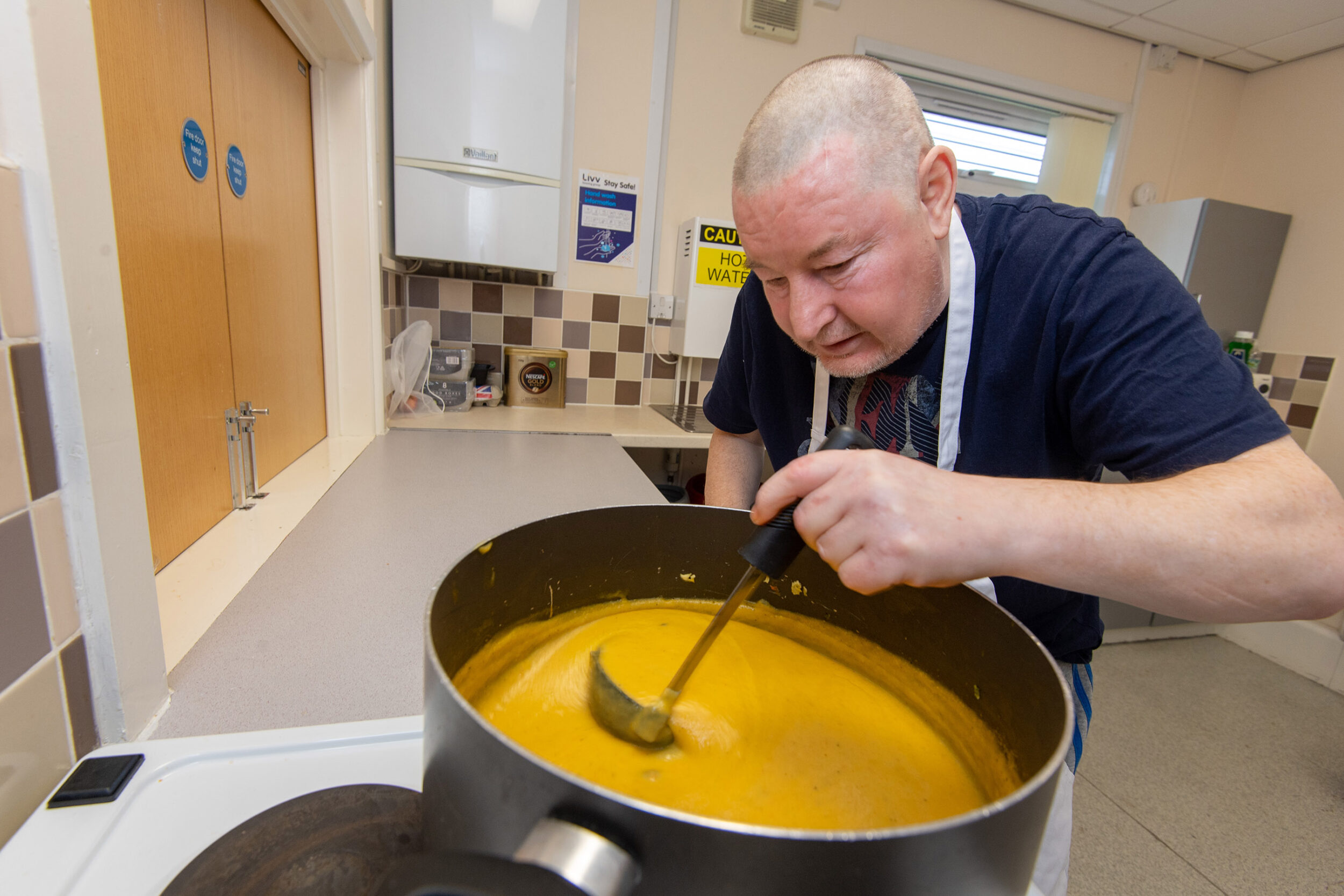 Open every Wednesday, initially as a pilot scheme, 'Community Kitchen' serves freshly prepared hot meals. The menu varies each week and includes items such as vegetable soup and fresh bread, scouse, stews and apple pie.
We provided George with £500 funding to cover his food shops and he'll receive ongoing practical support and guidance from Alchemic Kitchen and the local chefs throughout the project, should he need it.
"We've been blown away by George's enthusiasm, community spirit and selflessness. The whole reason that we run our food-based programmes is to support customers with mental health, social inclusion and community cohesion – and George is the ultimate example of someone who has really benefited, even taking it one step further to support those around him.
"He was one of the biggest and most positive personalities on the Men vs Food programme and we couldn't be more pleased to see him rediscover his love for cooking. It's been brilliant to hear that he's keeping busy in the kitchen, and his initiative will help so many people in our Halewood community. We're really proud and happy to support him with his project and we wish him every success!"
–Amanda Newton, Executive Director of Customer Insight.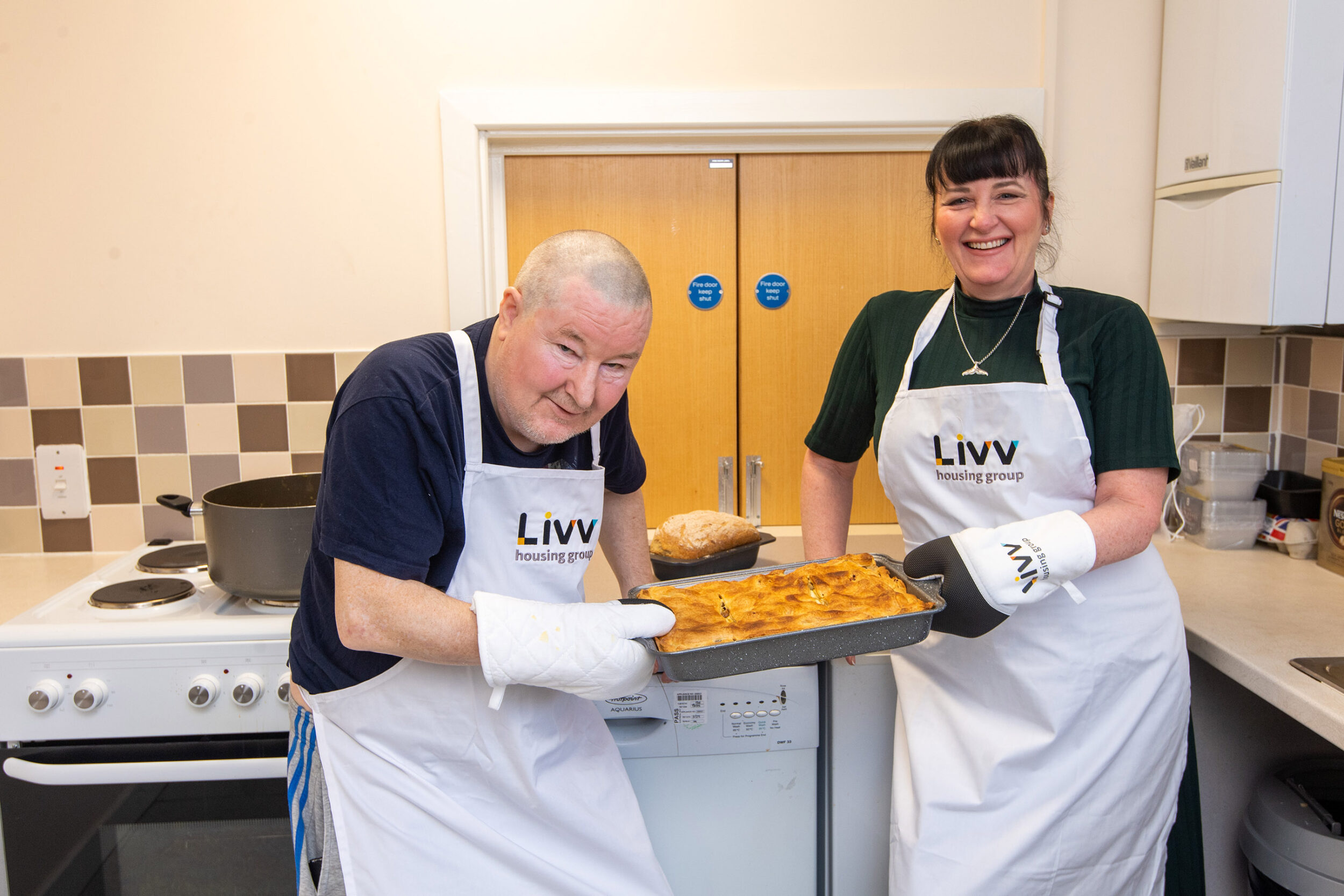 Through our place-based projects we aim to develop relationships with members in hyperlocal communities, to develop additional work that fits in with their wants and needs. Our relationship with George encapsulates this. George hasn't only completed our cooking courses, but he's also volunteered to support subsequent groups. He's also participated in our allotments project, which will provide fresh produce for the community lunch club, as well as other local Livv customers.
We share George's ambitions to support his local community and in turn will be there to provide hands on support for the pilot, as well as ongoing support building infrastructure and fundraising. It's a brilliant project and one that we're delighted to be involved with.
Keenan Humble, Programme Development Manager at Alchemic Kitchen.