We're pleased that our customers' views are included in the Northern Housing Consortium's 'Pride in Place' report, published on Thursday 9 November.
The Northern Housing Consortium (NHC) is a not-for-profit membership organisation whose members own or manage 9 out of 10 socially rented homes in the North. This week, they published their 'Pride in Place' report at the Northern Housing Summit. 'Pride in Place' was commissioned to explore what makes someone proud of where they live, and the role organisations like Livv could play in boosting this.
"The Pride in Place report is an important piece of work, and we're really grateful to our customers for taking part and telling us what matters to them. We want everyone to feel proud of where they live and will use this feedback to continue our work in building flourishing communities."
Léann Hearne, Chief Executive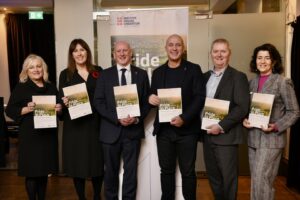 What happened
We used data from our customer census to pinpoint an area where customers reported a lower sense of local pride – in this instance, it was an area in Prescot. We then invited a group of these customers to take part in a series of workshops. These workshops asked our customers what they love about their communities and what they'd change, exploring practical ways to make that happen.
At Livv, how our customers feel is key to the decisions we make, and we're proud to have been one of five project partners that contributed to the research. As well as Prescot, the research included responses from Blackpool in Lancashire; Moss Side in Manchester; Benwell in Newcastle-upon-Tyne, and Skipton in North Yorkshire.
What did the research say?
The research found that the key factors affecting pride in the local area fell into three key categories:
Access to basic services
Sense of community and decision making
State of the local environment
What's next?
The report has produced several recommendations for improving the three areas of concern, including the role that social housing providers and other partners can play. Watch this space for updates on how we plan to implement some of these recommendations and make them work for our communities. Why not read the full report or watch the video?