A North West social enterprise, The Sewing Rooms, has responded to the COVID-19 pandemic by pivoting from its usual commercial market to producing a line of facemasks for the general public. This has enabled them to bring staff back from furlough and help protect the local community, with the help of an £8k grant from Livv Investment, part of our Livv Housing Group.
The Sewing Rooms aims to bring about change through trade, providing workshops and sewing and manufacturing services to private and corporate clients, reinvesting the money they make into the communities around Skelmersdale. Through initiatives designed to upskill, improve wellbeing and reduce isolation – supported by investment from Livv Investment – The Sewing Rooms work with a range of local groups, including those often marginalised such as ex-offenders, people who have experienced domestic violence and those with mental health challenges.
However, a fall in business due to the COVID-19 pandemic and lockdown meant that some staff needed to be furloughed, so co-founder Paula Gamester started to think about ways to both help the community and bring staff back from furlough.
Paula and her team are creating a production line of facemasks for the general public. These non-surgical masks are made with certified virus-resistant Panaz Shield Plus Technology, meaning they can be worn and washed many times.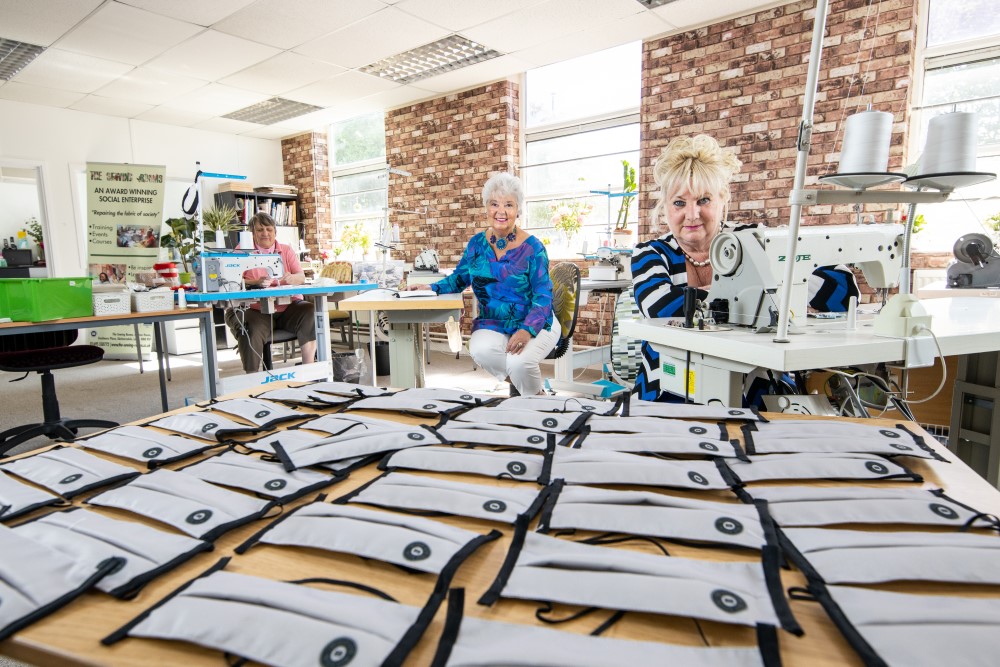 In February we were making curtains, bedding and soft furnishing for hotel chains and residential settings, but all of that dried up with the pandemic. My staff were furloughed from March, so we galvanised all of our ex-students as volunteers and started making masks for the community.
We've been making them for food banks, taxi drivers and care homes that couldn't get their hands on PPE. We've managed to source material that's Anti-Microbial, which is effective against COVID-19 as well as being washable and re-useable – we also put a lot of effort into making these masks comfortable and easy to wear.
I've been able to bring all the team back with the support of Livv Investment and the grant they have given us, and we've had support from the Community Foundation and the National Lottery and have set up a Crowdfunder page and sell these masks. We've had orders from national charities and it's really ramping up.
Paula Gamester, Director and Co-Founder at The Sewing Rooms
Costs for the initial set-up came from a grant of £8k from Livv Investment, who are supported by Access – the Foundation for Social Investment, through the Growth Fund programme with funding provided by The National Lottery Community Fund and Big Society Capital.
The money has gone towards the purchase of material, upgrade of the website as well as bringing back furloughed staff. The Sewing Rooms has the capacity to create 10,000 of these masks, helping to protect the community without using surgical masks that are still needed for NHS and care staff.
We're incredibly proud of the community work done by The Sewing Rooms and the social impact our past investments have helped them to make. Like most businesses, they have been affected by the lockdown, but have managed to turn it into a positive for the community again with this new crowdfunding project.
I'm delighted that Livv Investment has again been able to help Paula and her team make such a big difference not only to bring back their furloughed staff but also creating face masks that will help local people control the spread of COVID-19. This is exactly the kind of social impact we all need to support to come through these difficult times.
Léann Hearne, Group Chief Executive Officer at Livv Housing Group
Find out more about this initiative from The Sewing Rooms and donate to receive your face masks through their website: