Your safety is our highest priority. We work in partnership with Merseyside Fire and Rescue to carry out regular fire safety checks and help keep you safe.
Be prepared
Being prepared could make all the difference in a fire.
Most of our apartment blocks have a 'stay put' policy in place. This includes our extra care and sheltered schemes. If there is a fire in another flat in the building, you are usually safest in your own home unless you are affected by the heat or smoke. If you are not sure about your building or scheme's policy, you can find this information displayed in your building's communal area notice boards.
If you live in a house, it is a good idea to create your own escape plan with your family. Cheshire Fire Service have a step by step guide to preparing your own fire escape plan. In the event of a fire, If it is too dangerous to follow your planned escape route because stairs and hallways are full of smoke, ring 999 and stay inside the safest room. Never assume that someone else has called 999 – make the call yourself.
Once outside the building, go to your meeting point. Check that everyone who lives in your home is out of the building and wait to meet the fire service. You will need to direct them to your home and answer their questions to help them.

Our commitment to you
We work in partnership with Merseyside Fire and Rescue Service to carry out regular fire safety checks. These make sure the fire safety measures in your property support your specific fire evacuation policy. We work with accredited companies to carry out regular assessments and strategy reviews. – ensuring that action plans are implemented for ongoing investment in improving your building's safety.
As your landlord, we make regular fire safety checks in the communal areas of buildings. Some of these checks include:
weekly inspections of communal areas in high rise blocks to check for any fire safety risks.
24/7/365 monitoring of fire alarm systems, wherever we have them installed. The monitoring station will be alerted If the system detects heat or smoke, calling the fire service to attend if needed.
regular routine maintenance of our: fire detection and alarm systems, emergency lights, smoke ventilation systems, fire doors, building electronic security, dry risers and fire suppression systems, wherever they are installed.
fire risk assessments on all our buildings. We identify any potential risks and then decide on the actions needed to remove or reduce them or improve fire safety in the properties.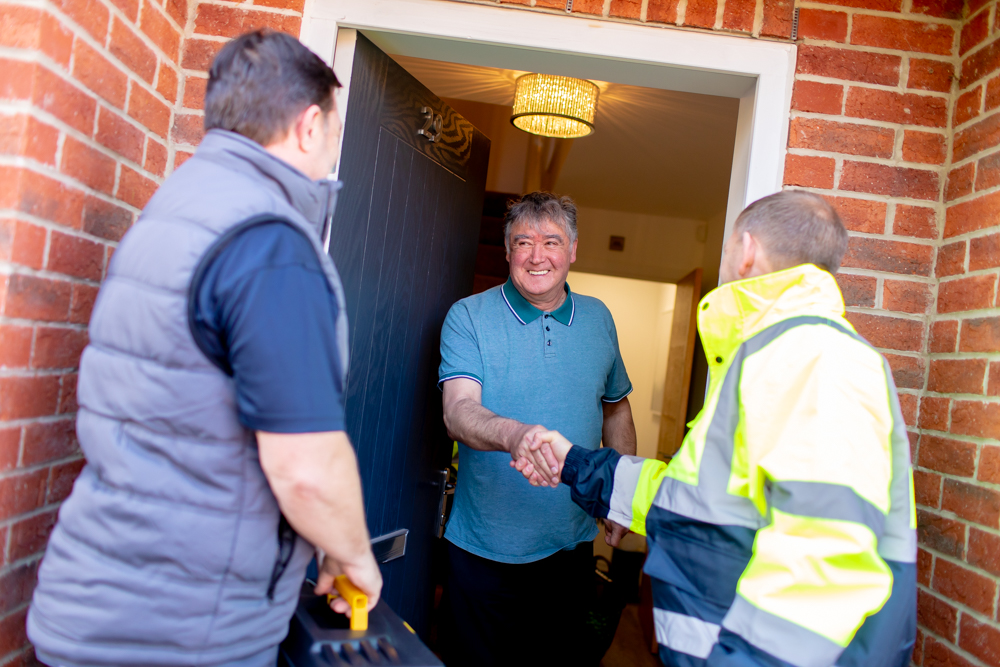 Staying safe
Most fires in the home can be avoided. Following some simple steps can help lower the risk and keep you and your family safe:
keep communal areas clear and free from rubbish or personal belongings. Items like bikes, prams or potted plants could cause accidents in an emergency and stop the fire services from getting through. These items could also fuel a fire and help it spread.
check your fire alarm once a week. Hold the button down until the alarm sounds – it only takes a few seconds but could save your life!
regularly check your sockets and plugs for damage. This could include black marks or plugs that are hot to the touch. Keep an eye out for loose or broken wires.
cook with care. Keep children out of the kitchen, move tea towels or any flammable items away from the cooker and don't leave anything unattended.
don't wedge open doors. In a fire, closed doors can help slow it down.
maintain your electrics. If repairs are needed to any mains electrical equipment, such as switches, sockets or light fittings, report a repair with us. If you think one of your own appliances may be faulty, stop using it straight away and find a safe replacement.
check the front door to your flat regularly to ensure it is in good repair and that the self-closing device on it works correctly. If you think it is in need of a repair, please contact your Housing Officer.
For more information about fire safety in the home or to arrange a Home Fire Safety Check, visit the Merseyside Fire and Rescue website.
Add 5 minutes to your bedtime routine
Before you head off to bed, take five minutes to go room to room and make some important checks:
switch off any plug-in air fresheners and unplug any TVs or electrical goods, apart from your fridge and freezer – don't leave them on standby.
don't charge items like phones or tablets overnight. Keep them plugged in until they are charged and then disconnect them.
if you smoke, make sure your cigarettes are all out properly and don't be tempted to smoke in bed or when you are sleepy.
make sure all your cooking appliances are off.
double check that any candles are completely out.
check the floors are clear and all your exits are free from obstacles.
close all your doors to prevent fire spreading.
leave your door keys in a convenient position close to the door, but away from the reach of burglars. Make sure everyone in the house knows where they are kept.