The coronavirus crisis has meant that many vulnerable members of our communities have needed extra help. At Livv Housing Group, we have done our best to respond as quickly as possible.
Our teams have been working hard to check in with customers to make sure they are safe and well. This has involved over 2,000 wellbeing calls, starting with our most vulnerable customers, including the over-70s and the over-55s in sheltered housing & extra care.
Many of these customers have little or no support network and are at risk of being increasingly isolated as a result of the social distancing required to stop the spread of coronavirus.
As a result of the wellbeing calls, we now have over 200 customers who have requested daily or weekly calls from our teams for a check-in.
We are doing our bit to help the wider community too, including making a £5,000 donation to The Big Help Project, who run Knowsley Foodbank, helping to provide much-needed groceries for those who are struggling.
Working with local partners, we have been able to support residents across Knowsley with the delivery of food parcels. Over the last two weeks, the Livv Care & Repair team have delivered over 600 emergency food parcels. They were provided by Knowsley Foodbank in partnership with the Knowsley Support and Volunteer Hub, established by Knowsley Council, to support people across the borough who need it most right now.
As a business we are also supporting the Community and Volunteering Hub – an advice line for all residents and businesses in Knowsley looking for advice and guidance around issues they are facing because of Coronavirus – with several Livv staff volunteering to take calls and offer help.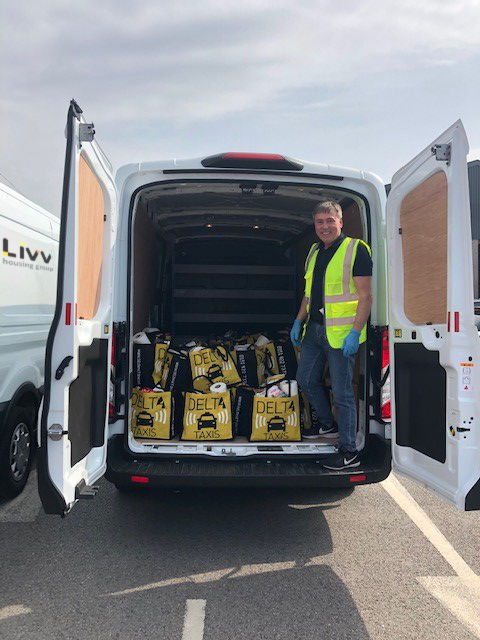 This is an incredibly challenging time for all of us, but particularly for the most vulnerable and isolated people in our communities. As a housing group determined to have a positive social impact, we know we have a responsibility to our customers and I'm proud of the results of these calls our teams have been making.
One of our Housing Officers made a call to a 91-year-old lady and found out that she was self-isolating and was running out of food, with no family support to help her. We contacted The Big Help Project, who sorted out a food parcel and went out to drop the parcel off at the customer's home. We will keep on checking in with this customer and making sure she is getting the support she needs.
Another of our Housing Officers spoke to a 75-year-old lady who cares for her two brothers, both with learning difficulties. She was struggling for food and was wary of becoming another victim of the fraudsters who are preying on vulnerable people at this time, particularly after it had happened to one of her friends. Again, we worked with The Big Help Project to get her support and will keep talking to her.
However long this crisis goes on for, Livv Housing Group will be here to support our customers and do whatever we can to help the wider communities they – and we – live in.
Amanda Newton, Executive Director of Customer Insight at Livv Housing Group