Set to open its doors in Prescot in July, we've joined forces with Shakespeare North Playhouse to become their official Social Impact Partner. The unique partnership aims to create positive impact and support residents and communities in Knowsley to flourish.

Last year, we worked with local partners to invest over £450,000 into local projects that created more than £51m worth of social value for communities in Knowsley, as part of an ongoing commitment to support and create opportunities to help people grow, develop, and thrive.
Our team are working with Shakespeare North Playhouse to engage communities in and around Knowsley, bringing people from local communities into new and inspiring spaces to make links between the arts and practical everyday issues like learning, accessing employment and mental wellbeing. The theatre, which is home to the only 17th-century 'Cockpit" theatre outside London, will be a fantastic community asset that needs to be accessible by all and will be a catalyst for delivering some great outcomes for the people and economy in Knowsley and the wider Liverpool City Region.

"Welcoming Shakespeare North Playhouse to our expanding partnership network gives us a brilliant opportunity to engage people in ways that they have never experienced before.  This is so much more than a theatre; it is a business that will bring real value to the borough and the wider city region.
"The arts can often be seen by many as inaccessible and our partnership brings a joint commitment to bust those myths and bring real people into an iconic space to engage with employment, development of skills and most importantly build aspiration in our communities.
"Over the last two years we have continued to support more local social enterprises and charities, and deliver a range of activities to help our customers to thrive. By doing so we've created more than £51m of social value, which has seen us support people and families to heat their homes, feed their families, cope with the health challenges of the pandemic, build stronger communities, and access education and employment.
"Our partnership with Shakespeare North Playhouse sees us using our experience and track record for delivering great social outcomes to support a key enabler in the city region. As two organisations anchored in the local community, we will bring our collective expertise to create meaningful and lasting impact and opportunities for local people."
Léann Hearne, CEO at Livv Housing Group.
"We are delighted to be working with Livv Housing Group. This is a unique partnership, particularly in the arts. It sets Shakespeare North Playhouse apart as a new type of theatre, not only investing in our local area but working together with fantastic community partners to co-create positive opportunities and experiences to help people thrive.
"Livv has a proven track record delivering and supporting creative initiatives to help people thrive in our area, and we could not have chosen a more suitable partner. We want to ensure Shakespeare North Playhouse makes a real difference to people's lives and gives the best possible return on public investment back to our communities."
– Melanie Lewis, chief executive of the Shakespeare North Playhouse.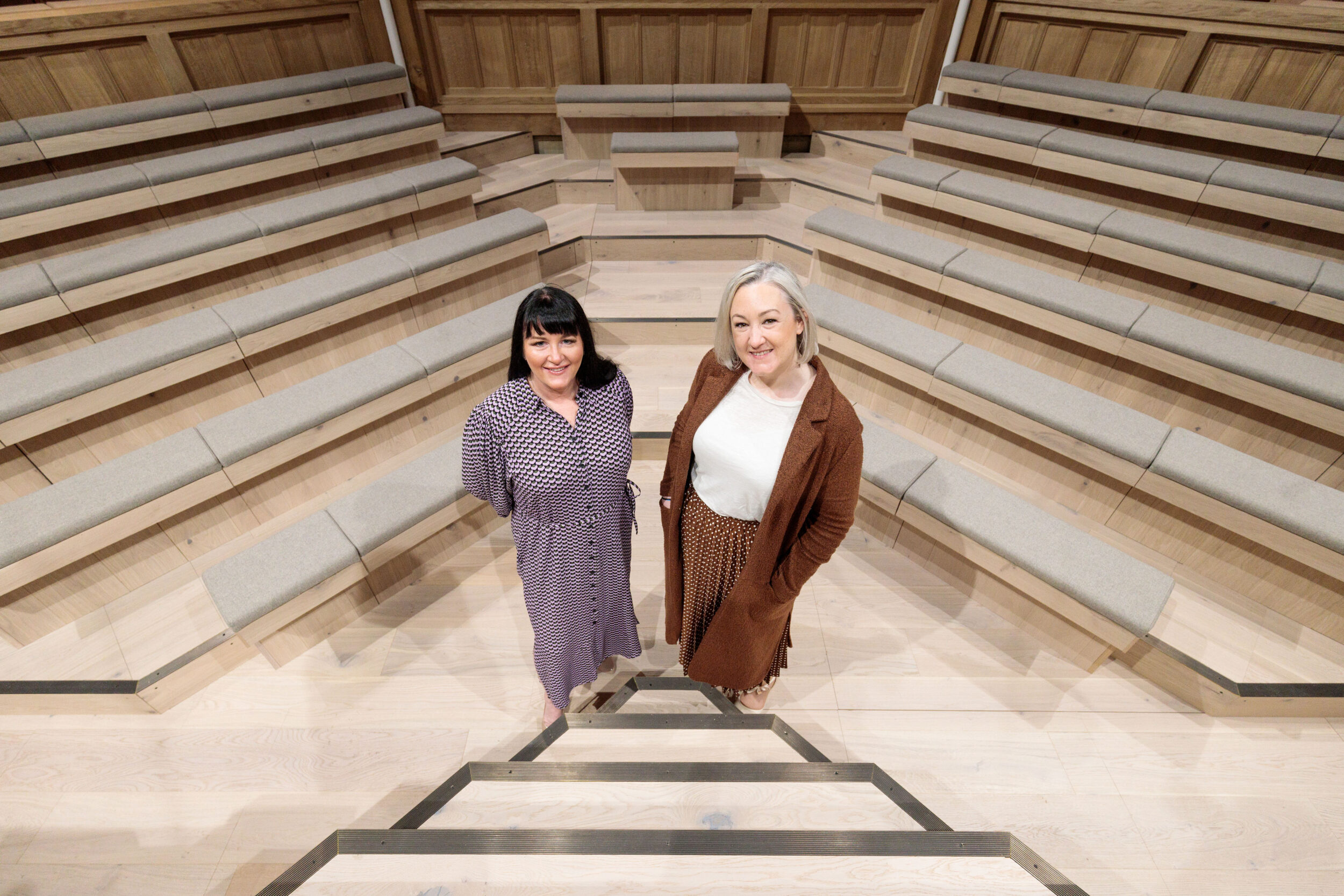 "We are already working with a host of local organisations including, The Imaginarium, and local schools to nurture the next generation of artistic talent. This partnership will support us to broaden that benefit as part of our philanthropic mission, to reach as many people as possible so this is not just a wonderful space to be in but also actively gives back as part of the community."
Evonne Bixter, head of engagement, Shakespeare North Playhouse.
In addition to providing a world class attraction, the theatre's mission is to become an exciting new destination that the Prescot community can proudly call their own, nurturing creativity and talent through an inclusive education programme, and a catalyst for transforming lives. The building will also be an accessible space full of joy and creativity, where everyone is welcome.
Inspired by Prescot's historic connections to William Shakespeare and a love of storytelling, Shakespeare North Playhouse is expected to attract more than 140,000 visitors per year from across the globe, including drawing 100,000 new visitors to one of the most deprived boroughs in England for household income and employment.